Submit Card 0 in Queue
Card Submissions are CLOSED (2018-2022)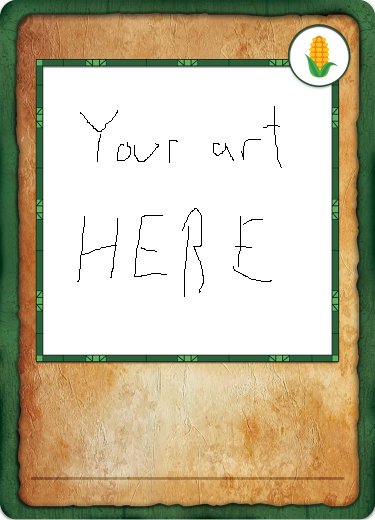 Creative Assets
How to Start
Start by creating a unique Bitcorn card that you think is creative, funny, or otherwise well-suited for a blockchain farming game. Browse the card directory for inspiration and examples. Be YOU-nique!
We provide two templates, one that looks like a trading card and one that is just a border. For the sake of Bitcorn cards being distinctive and easily recognizable, the border is required.
Once you have your card art, create a Counterparty asset to represent it on the blockchain. You can issue as many copies of your card as you like, most artists prefer smaller runs.
Submissions
When you're ready to submit, it's time to burn. Start by sending 1,000 BITCORN to this address. Afterwards, send one of your new cards to the Bitcorn Museum for permanent display. (See below.)
Now, you can use the form on this page to submit your card. If it gets accepted by The Foundation, it will become a Bitcorn Card and get integrated into the game.
Submission Fee
Send 1,000 BITCORN to this address: 1BitcornSubmissionFeeAddressgL5Xg.
The average card sells for 0 BITCORN on the DEX. (Last 30 Days)
Bitcorn Museum
Send one of your cards to this address: 1BitcornCropsMuseumAddressy149ZDr.
It's important that we curate and save this art forever.
Requirements
Image must be 375 x 520 pixels.
Image must be PNG or GIF.
Issuance must be LOCKED.
Asset must not be divisible.
No subassets.
No NSFW content.
No "pre-selling" before approval.
Submission Form
Submit Card
Fee: 1,000 BITCORN